Snuff Dispenser Tube Blade Bullet Scraper Rocket Silver Stainless Steel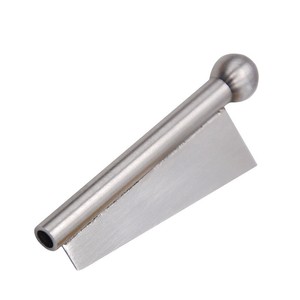 ---
Silver Stainless Steel Bullet Snuff Tube w/ Blade Scraper Powder Merging Plate Welcome to Our Official Store Sign Up Newsletter STORE MENU Store Home New Arrivals Ending Soon Feedback About Us Store Home New Arrivals Ending Soon Feedback About Us Silver Stainless Steel Bullet Snuff Tube w/ Blade Scraper DESCRIPTION
Key Features:
100% Stainless Steel Snuff Snorter Straw Tube Blade Can be used to scrape Snuff Length: 65mm Durable Material: Stainless Steel Weight: 5g Colour: Silver This is a straw type stainless steel snuff snorter that comes with a blade scraper.  Snuffing now gets even better! Delivery Returns Payment About Us

All orders are shipped within 24-48 hours of receiving payment.

If you pay by bank transfer, please allow up to 3 working days for your payment to clear before it is shipped.

Orders received and paid for prior to 10am on Monday through Friday will be shipped the same day.

Orders received and paid for outside of normal business hours will be posted on the next working day.

On occasions we may experience exceptional circumstances which may prevent us from posting your item within these time frames.  If they delay is expected to be more than 48 hours we will notify you of the expected shipping date.

Once your order is shipped, we will send you the tracking number so you know when it will be delivered.

Standard shipping can take 3 - 10 working days to be delivered and Express shipping 1 - 3 working days.

We offer FREE DELIVERY on many of our items. Items with FREE DELIVERY are sent via standard economy mail and may not always include tracking. If you would like to track your product please choose parcel post with tracking or express post options during checkout.Cheeky Ninjas do not take responsibility for items lost in transit once they have been handed to Australia Post or the relevant courier for delivery. To minimise delivery issues, please ensure your delivery address is current and your mail box is secure. Cheeky Ninjas FREE POSTAGE is only available for the first time a purchase is shipped to you. If for any reason your item is returned unclaimed or is unable to be delivered, you will be required to pay the cost of reshipping your items plus any costs incurred by us for the return of your items.

We accept RETURNS for FAULTY GOODS only.

We do not accept returns for change of mind.

Items can be returned within 30 days of the original purchase date.

Any items received after this date will not be eligible for exchange or refund.

Your item must be returned unused, in its original condition and in its original packaging with all parts included.

Returned items that have not been packaged appropriately and as a result are damaged in transit will not be considered for refund or exchange.

  Refunds

Once we receive your item, we will inspect it and assess your claim.

If your return is approved, we will either send you a duplicate item or initiate a refund via your original method of payment.

You can expect to receive your new item within 5-10 working days from the day we receive your returned item.

Please note that postage times may vary due to exceptional circumstances and Australia Post policies.

Refund payments are usually available within 3-10 working days, depending on your initial method of payment.

  Shipping Cost

The buyer is responsible for all return shipping costs.

The original shipping costs are not refundable.

Where an item was purchased with free shipping, an allowance of $8.95 is included in the price for the original shipping cost.

If you receive a refund on a free shipping item, the $8.95 shipping allowance will be deducted from your refund.

​​​​​​​​​​ Contact Us

Please email us prior to returning your item.

Your email should include details of the original purchase date and the reason for the return.

Items Not Eligible

Refunds will not be given for change of mind.

Items received outside of the 30 day window of return will not be considered for exchange or refund.

Items purchased as a 'Second' are for sale 'as is' and are not returnable.

Please inspect your item prior to purchase to ensure that it suits your needs.

 

We accept payment via PayPal and Bank Deposit. For Bank Deposit payments, please use the information below: Bank: ING NAME: Julie Squire Bsb: 923100 Account number: 38345545 Please put your name or id as a reference for your payment. Take note that order paid via Bank Deposit will be posted after payment has been cleared by bank.

Head Ninja (AKA Julie Squire) became a ninja by accident.  She lived a different life once, a life that was destined to change.

Julie loved her government job but she was slowly suffocating in a workplace that was built under the influence of the 'Dunning-Krueger Effect'.  She longed for the freedom to use her innovative thinking and inquisitive mindset.  One day, while surfing the internet, she stumbled upon the idea of making and selling diversion safes.

​
"Everybody's got something to hide"
 

she giggled to herself.  One sale led to another, and then another, and soon she was happily hooked on creating new and unusual places to hide things.  She opened her first store in 2015 and from day one enjoyed its booming success.

Within six months she quit her job to focus on her new business venture, Cheeky Ninjas.  Aptly named, as Julie felt a bit sneaky and clever being able to hide things right in front of people's eyes….  she felt just like a cheeky little ninja.

​

Julie designs and researches each Cheeky Ninjas Original stash can and diversion safe personally, with a strong focus on quality and innovation.  Cheeky Ninjas Originals are made from original brand name products readily found in Australian stores and homes.  So, you can be sure your diversion safe will blend right in, fooling even the biggest of your snooping friends. Cheeky Ninjas Originals are 100% original, made at home, by real people (or ninjas as we are now known).  There's no mass production, no importing, and no overseas manufacturing.  Cheeky Ninjas is a 100% Australian owned and family operated business.

​

Never satisfied with the current inventory, Julie is always on the lookout for new ideas and interesting products to add to the ever-expanding Cheeky Ninjas Store.  She can be found tirelessly scouring the internet for days on end just to find the perfect new product to compliment the Cheeky Ninjas range.

Only the highest quality smoking accessories, digital scales and detox products, sourced from around the world win a place in the Cheeky Ninjas store.

​

Brainstorming with her fellow ninjas and responding to the positive recommendations of her loyal customers, Julie works tirelessly to make sure each product works perfectly.  She admits that creating and testing her products can be slightly dangerous at times.

 

"There's been a few small explosions and more than a couple of trips to the emergency room… but it's nothing a true ninja can't handle!"

​

Thankfully, Julies ever watchful ninjas take away her tools and handle most of the dangerous stuff these days. The ninjas regularly joke..."Stopping Julie from blowing up the house and making us disappear in a cloud of smoke like a real ninja, is just a normal day for us.    We don't do boring."

​

Julie, now uses her ninja skills to oversee the safer aspects of the business.  She focuses on developing new ideas, providing excellent customer service, and ensuring Cheeky Ninjas are the true masters of their craft.
So, think about what you want to stash, check out Cheeky Ninjas extensive product range, and enjoy the satisfaction of knowing that no matter what you've got to hide, Cheeky Ninjas have a product to help you do it.
QUICK LINKS New Arrivals Ending Soon Feedback About Us Newsletter

Sign up to our newsletter for special deals

SUBMIT We Accept

Got something to hide?  Cheeky Ninjas will help you Stash your Stuff!

On 11-Jan-18 at 18:17:14 AEDST, seller added the following information:

Powered by SoldEazy