Headlight KIA SEDONA Left 15 16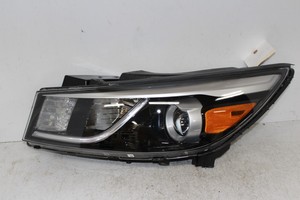 ---
ADVANCE AUTO SALVAGE 1456 MOUNT HERMAN MURFREESBORO, TN 37127 Phone: 615-896-7700 Fax: 615-895-5050 Hours of Operation (CST): 8:00-5:00 Mon - Sat Payment Shipping Warranty & Returns Definitions Contact Us Headlamp Assembly Type: Category: Condition: Year: 15 Model: KIA SEDONA Side: Left VIN: Vehicle Stock #: 12567 Part Stock #: Interchange: KIA SEDONA 15 halogen (projection), w/o LED accents; LHKIA SEDONA 16 halogen (projection), w/o LED accents; LH Interchange Description: hlgn (projection), w/o LED accents; LH Additional notes: Hlgn (projection), W/o Led Accents; Lh Payment Shipping Warranty & Returns Definitions Contact Us

We accept immediate payment using Visa, Mastercard, and PayPal.
Purchases Made
Your Recycling Center ships daily via UPS, FedEx, Roadway, R&L, and other carriers. Some parts are sold with exchange of the old or bad part. All retail parts must by prepaid.

Pick up at our facilities is available. Please call or email us prior to your purchase to arrange pick up. Items will be shipped within 1-2 business days of purchase. Please allow 5-10 days for delivery. Most areas in the US are within 5 days. Expedited shipping may be available for an additional charge.

If an item arrives damaged, please call or email upon receipt for instructions.

All returns and exchanges must be pre-approved and shipping must be prepaid. We pay no shipping on any warranty claims. All items can be made available for pickup to avoid shipping charges. Although we attempt to ship only quality parts, if a replacement part is needed and not available, approved refunds will be issued less shipping charges.

Inspect merchandise upon receipt. If is sold as-is; however, we will replace merchandise if defective and returned within 14 days in the same condition as purchased. Shipping charges and a 25% handling charge applies to merchandise returned for a refund within 14 days. No refunds or returns after 14 days. No refunds on "cut off" parts. All deposits are non-refundable Guarantees: Transmissions and Engines have 30 day guarantee from the date of purchase against cracked block, not to knock or smoke excessively. This is a parts replacement only and not a refund. Carburetors have no guarantee and no return All claims must be accompanied by the invoice. We make no other guarantee or warrantee, express or implied. We pay no labor, delivery, incidental, consequential, or special damages of any kind. Core parts must be returned within 30 days. Parts must be picked up and paid for within 30 days or the deposit is lost.
Extended Warranty Terms
insert your warranty terms here

Engines

No Extended Warranty Offered

Transmissions

No Extended Warranty Offered

All other parts

No Extended Warranty Offered

Body Part Grading A = 1 or less units of damage B = 2 or less units of damage but more than 1 C = more than 2 units of damage Mechanical Part Grading A = Less than or equal to 60k miles, or greater than 60k miles but less than or equal to 200k miles and less than or equal to 15k miles per year B = Greater than 60k miles and less than or equal to 200k miles but greater than 15k miles per year C = Greater than 200k miles Damage Unit Types cc = Credit Card size units Blank = Unknown damage unit Part Grade Abbreviations AFT = New Aftermarket body part Downgrade = Recycler choose to downgrade the part based on damage not reflected in the grading algorithm

If you have a question about a part please contact us BEFORE purchasing.

We can be reached through messaging, Car-Part iCPM, phone, or email. We will try to answer all requestions within one business day.

Powered by from